INTERNATIONAL ART AWARDS/NEW GENERATIONS
JURY AWARDS
JURY PRELIMINARY NOTE: The First and Second Prizes are awarded to the artist and their three artworks in the show. Honorable Mentions are granted to the artist and one specific work.
JURY CRITERIA FOR THE FIRST AND THE SECOND PLACE AWARDS: The thematic context of the artwork and its connection with global and regional themes at political, social, anthropological, and psychological dimensions, and its relationship with contemporary art movements, alongside the works' merit, were all factors that informed the Jurors' selection of the International Art Awards competition Prize Winners. The use of alternative and mixed-media forms, their social commentaries' poignancy, their connection with the materials selected, and their employment were likewise noteworthy in the artists' First Place and Second Place winning artworks.
JURY STATEMENT FOR GRANTING THIS PRIZE TO ALFRED KRUPPA: Through the
collaged news pages of an idyllic peacetime setting, Alfred Freddy Krupa juxtaposed hand-drawn white chalked outlines of fallen figures in "Lost lives" — casualties amidst modern forms of social violence.
"Ukrainian days" addresses the present state of warfare in Ukraine and its desolate terrain as a war-torn region. "Kupa's fog" reveals a subtle use of ink where pooling water and brushwork forms an undefined yet singular landscape of clouded complexity in this painting signed with a Chinese signature seal.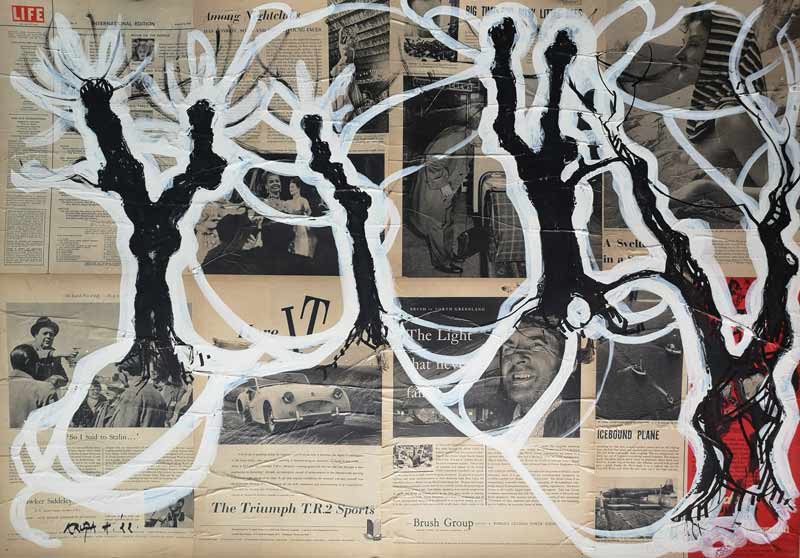 SECOND PRIZE: AWARDED TO TWO ARTISTS
JURY STATEMENT FOR THE SECOND PRIZE:
The Second Prize was awarded to two nominees due to the great merit of each artist and their respective work. Car Act Air Car Act Air's and Soledad Burgaleta's art address contemporary regional and localized issues that are still widespread nationally and globally in the critical social context of today's communities.
JURY STATEMENT FOR GRANTING THIS PRIZE TO SOLEDAD BURGALETA:
Soledad Burgaleta's artworks addressed the subject of the elderly, the psychological weight of their lives' history, and their respective rich identities are facially alive in each personality's characteristic gaze, contours, and wrinkled lines. Each face reveals a lifetime's experience. The portraits are highly detailed and skillfully drawn with more than life-like attention to psychological complexities.
Distinguishing elements point to the social meaning of cultural dress forms, the use of accessories that point to forms of devotion, and humble origins while also brought from their historical depths to the present through the masked Covid-19 experience.
JURY STATEMENT FOR GRANTING THIS PRIZE TO CAR ACT AIR CAR ACT AIR:
Car Act Air Car Act Air introduces images of masked identities that arise from communities in crisis. Their multimedia series of photographed performances painted in bold chromatic scenes reference a utopic pre-formic combination of art forms that connect to the collective's aim of achieving a complete art form.
THIRD PRIZE: POPULAR VOTE:
HONORABLE MENTIONS AWARDED TO THE FOLLOWING ARTISTS
JURY DECLARATION: Due to the powerful richness of the proposals and such a diverse variety of media, the jury decided to expand the number of artists to award an Honorable Mention to 12 artists, recognizing the merit and complexity of the use of new contemporary media in art
HONORABLE MENTIONS AWARDED TO THE FOLLOWING ARTISTS
JURY DECLARATION: Due to the powerful richness of the proposals and such a diverse variety of media, the jury decided to expand the number of artists to award an Honorable Mention to 12 artists, recognizing the merit and complexity of the use of new contemporary media in art
MUSTAQUE AHMED "SUMMER SENSATION 2"
MARIONA CLAVÉ "SALLENT"
MEG COGBURN "THE HANGED MAN"
VERÓNICA CRUZ "DESPUÉS DE LA ÚLTIMA CENA"
MATHEO DELAILLE-PUTNOVIK "TRANSIT"
RYAN ECCLESTON "IN THE WOODS"
JASON ENGELBART "EUPHORIA II"
ALISON HYMAN "DEEP"
CAROLA ORIETA-SPERMAN "REVEILLER BLACK"
UTAELLAMARIE PETER "WEBed In"
XIONG WEI "POND FISH"
JON WHITBREAD "UNTITLED 2"